SUPER GUIDE: Sales Tactics & Strategies
The Super Guide about Sales Tactics & Strategies is a complete guide on discussing the significance of developing a sales strategy, exploring some successful sales strategies, and providing guidance on how to steer clear of the sort of high-pressure sales strategies that might endanger existing customer relationships. We'll also go through several tools that are meant to assist you in maximizing the effectiveness of your efforts.
Table of content
Introduction
What Are Sales Tactics & Strategies?

What Is A Sales Strategy?
What Are Sales Tactics?
Sales Tactics Vs Strategies

Sales Strategy

The Importance Of Sales Strategies

Long-Term Growth
Establishes Focus
Target The Right Customers
Maximizes Results

Sales Strategy Examples
Hubspot

Hire The Right People According To Repeatable Evaluation Criteria
Train The Sales Team
Align Sales And Marketing

Shopify

Hire Great People, Not Necessarily Great Salespeople
Treat Sales As A Science, Not An Art
Build A Smart, Technological Foundation
Maintain A High-Quality Pipeline By Eliminating Unqualified Leads
Pain
Power
Money
Process
Timeline

Types Of Sales Strategies

Inbound Sales Strategy

Inbound Sales Examples

Blog Posts
Organic Social Media Posts
Paid Search
E-Books
Video
Webinars And Podcasts

Inbound Sales Techniques

Define Your Buyer's Journey

Awareness
Consideration
Decision

Develop A Sales Process That Supports The Buyer's Journey

Identify
Connect
Explore
Advise

Identify Your Ideal Buyer Persona

Inbound Leads
Inbound Companies
Trigger Events
Social Selling
Common Connections
Passive Buyers

Lead With A Helpful, Customized Prospecting Message
Craft Customized Questions To Uncover The Prospect's Pain
Give A Tailored Presentation

Why Choose Inbound Over Outbound Sales?

Outbound Sales Strategy

Examples Of Outbound Sales

Cold Calling
Outbound Email
Social Selling

Outbound Sales Tactics

Speak With Prospects Via Live Chat
Start Social Selling
Contact Existing Customers And Ask For Referrals
Guest Star On A Podcast
Use Webinars To Build Relationships
Reach Out To Buyers That Visit Your Website
Build An Outreach Plan (Using Your Crm Database)
Segment And Tailor Personalized Emails
Influencer Marketing And Shoutouts
Cold Callings Aren't Dead
Cold Messaging On Dm / Social Media
Cold Calling
Outbound Email
Social Selling

Why Choose Outbound Over Inbound Sales?
How To Build An Outbound Sales System?

Inbound Vs Outbound
Best Sales Strategies

Set Specific Goals
Analyzing Past Sales
Increase Online Sales Through Social Media
Become A Thought Leader
Don't Shy From Cold Calling
Provide A Personalized, Clear End Result
Start With Small Niche Markets
Be Flexible In Your Sales Conversations
Use Lead Scoring To Prioritize Your Prospects
Connect With The Decision-Maker
Make Your Sales Pitch Exciting
Listen To What Your Prospects Are Telling You
Give Your Undivided Attention To Sales Calls
Negotiate For A Win-Win
Follow Up Until You Get A Definitive Answer
Highlight Risks And Opportunities
Sell Yourself
Develop The Right Mindset
Be Helpful At The Core Of Your Sales Strategy
Ask For Specific Referrals
Give Focused Product Demos
Reach Out To Sqls Within 24 Hours Of Signup
Address Uncertainty When You See It
Use The Pas Framework
Problem
Agitate
Solution
Create Urgency

Limited Enrollment
Upcoming Price Increases
Custom Offers

Sell More To Your Existing Customers
Intelligently Use Free Trials

Keep It Short
Invest In Onboarding

Employ Email Automation
Differentiate Your Company From Your Competitors
Be Willing To Adapt Your Offering
Close Deals With Confidence
Nurture Existing Accounts For Future Selling Opportunities

How To Build A Sales Strategy?

Develop Organizational Goals
Develop S.M.A.R.T. Sales Goals
Create A Customer Persona
Evaluate The Different Types Of Sales Strategies
Hire, Onboard, And Compensate Sales Team Members Adequately
Develop A Clear Sales Process To Follow
Build Your Sales Stack And Documentation
Create A Plan To Generate Demand
Measure Individual And Team Performance
Track Sales Activities

Keys To Developing A Successful Sales Strategy

Build A Powerful Value Proposition In Your Messaging
Create The Urgency To Change
Tell A Compelling And Memorable Story
Speak To The Customer Deciding Journey, Not Your Sales Process
Don't Rely On Buyer Personas In Your Sales Strategy
Avoid The "Commodity Trap" In Your Sales Strategy
Lead With Insights, Not Discovery Questions
Align Sales And Marketing
Tailor Your Sales Strategy For Customer Expansion
Enable Ongoing Situational Training

Sales Initiatives

Refresh Your Buyer Personas Regularly
Actively Align Sales And Marketing
Use A Crm
Listen To Your Prospects
Invest In Sales Development And Team-Building

B2b Sales Strategies

What Are B2b Sales?

Inside Sales Reps
Outside Sales Reps

Four Types Of B2b Selling

Producers
Resellers
Government
Institutions

B2b Sales Process
Why Is B2b Sales Hard?

Price
Market Size
Purchasing Decision-Making Process
Sales Process Speed
Customer Service

What Is A B2b Sales Strategy?
Why Is B2b Sales Strategy Crucial?

Increased B2b Buyer Skepticism
Better Access To Reviews
More Risk Awareness

Best B2b Sales Strategies

Remember Sales And Marketing Win Together
Prepare Before You Approach Your Audience
Create A Follow-Up Plan
Develop A Lead-Nurturing Plan
Leverage Account-Based Marketing
Go Social
Identify Opportunities For Repeat Business
Ask For Referrals
Focus On Sales Experience Throughout The Buyer's Journey
Set A Feedback Process For Lost Leads

How Do You Develop A B2b Sales Strategy?

Research And Define Your B2b Customers
Analyze The Niche Market
Craft Relevant And Compelling Usp
Build A Customer Relationship Strategy
Devise An Action Blueprint
Deploy A Sales Target

How To Improve Your Sales Strategy To Be Successful During A Recession

Overcoming New Challenges
Utilizing The Right Tools
Evaluating Your New Ideal Customer Base
Adapting Messages And Communication
Maintaining Relationships Online
Altering Sales Strategy
Avoiding Common Mistakes

Sales Tactics

What Are Sales Tactics?
The Importance Of Sales Tactics

Sales Tactics That Work

Be Persistent With Leads And Develop The Habit Of Following Up
With Each Customer
Solve Your Customers' Problems
Follow Through On Your Commitments
Take Advantage Of Customer Referrals
Actively Listen To What Customers Do And Don't Say
Use Polite Terms When You Discuss Competition
Earn Your Referrals Before You Ask For Them
Develop Relationships With Your Customers
Identify Your Customers' Needs And Meet Them
Be Able To Distinguish A Lead From A Customer And Act Accordingly
Solicit Targeted Leads
Talk About Your Competition
Learn To Uncover Each Customer's Pain Points
Master The Art Of Storytelling
Use Your Crm Platform To Stay Updated And Accurate
Rely On Quantitative Data
Stand By Your Product Or Service And Offer Some Type Of Guarantee
Find Prospects Who Want The Things You Have To Sell
Develop Compelling Goals And An Actionable Plan
Revisit Cold Leads When Appropriate
Loop In Experts From Other Departments
Earnestly Ask For Sales Tactics Feedback
Show Customers Proof That Your Product Or Service Actually Works
Maintain A Positive Mindset

Sales Tactics To Use Over The Phone

Speak Clearly
Use Scripts
Try Call Recording

Direct Sales Tactics

Mirror Your Buyer's Behavior And Energy
Treat Everyone With Respect
Be Curious

High-Pressure Sales Tactics To Avoid
Incorporating Sales Tactics Into Business Plans
Sales Tactics That Don't Work Anymore

Cold Calling
Getting On A Plane To Start A Relationship
Overselling The Product
Treating Your Product Demonstration As The End-All, Be-All
Telling, Not Asking
Pushing Hard For A Borderline Deal
Moving Too Quickly
Ignoring The Prospect Relationship
Thinking That Being On Social Media Is Enough
Relying On Marketing To Generate All Your Leads
Thinking You're Too Good To Learn New Things
Selling Alone
Letting The Grind Wear You Down
Forcing Every Prospect Through The Same Sales Process
Hammering A Prospect With Too Many Calls And Emails
Keeping The Competitive Edge To Yourself

What Is A Sales Process?

Why Do Sales Processes Matter?
Sales Process Steps

Prospect
Connect And Qualify Leads
Research The Company
Give An Effective Pitch
Handle Objections
Close The Deal
Nurture And Continue To Sell.

Sales Process Examples

Beyond Business Groups' 7-Step Selling Process
Ring Central's 6-Step Sales Process
Zendesk's 5-Step Sales Process

How To Improve Your Sales Process

Analyze Your Current Sales Process
Outline The Buyer's Journey For Your Target Persona
Define The Prospect Action That Moves Them To The Next Stage
Define Exit Criteria For Each Step Of The Sales Process.
Measure Your Sales Process Results

How To Create A Sales Process

Start At The End
Bring All Stakeholders Aboard
Outline The Sale Process Steps
Map The Buyer's Journey.
Implement Changes, Test, And Measure

Sales Process Flowchart
Effective Sales Tactics To Close

What Does It Mean, "Closing A Sale"?
Effective Strategies For Closing A Sale

Understand The Right Prospect Fit
Don't Give Up Too Early
Build Rapport
Create A Process For Objections Handling
Don't Forget To Ask For It!

Conclusion
Read an excerpt from this Sales Tactics & Strategies Super Guide:
"Both a sales strategy and a sales approach are essential to your company's success. Both are unique in their own right, yet share some characteristics that make them useful companions. Additionally, each one of them wants the same thing, which is an increase in both company sales and their balance sheets."
This is must-have knowledge for entrepreneurs and business model analysts and consultants. If you want to dominate business models this super guide was made especially for you.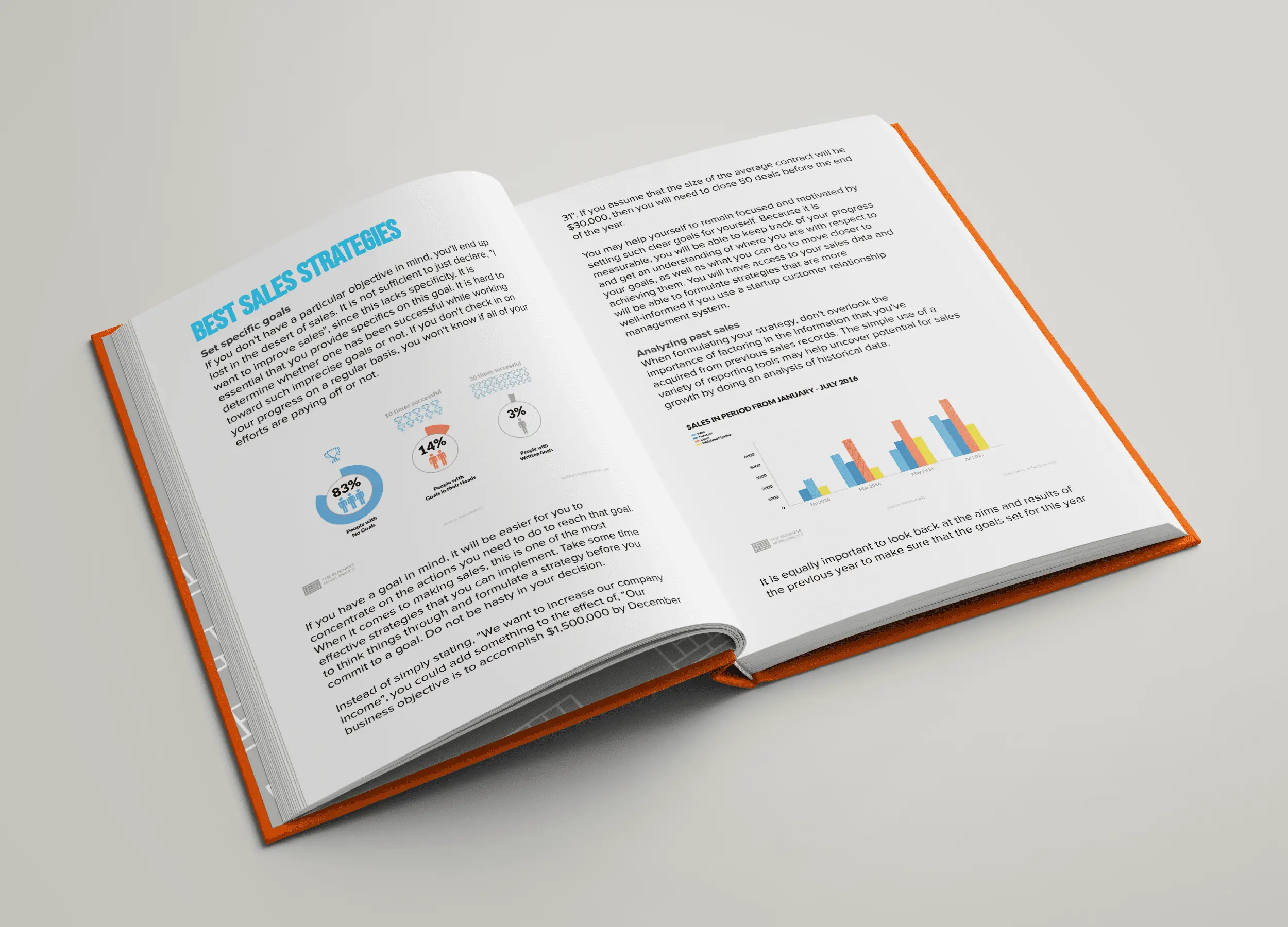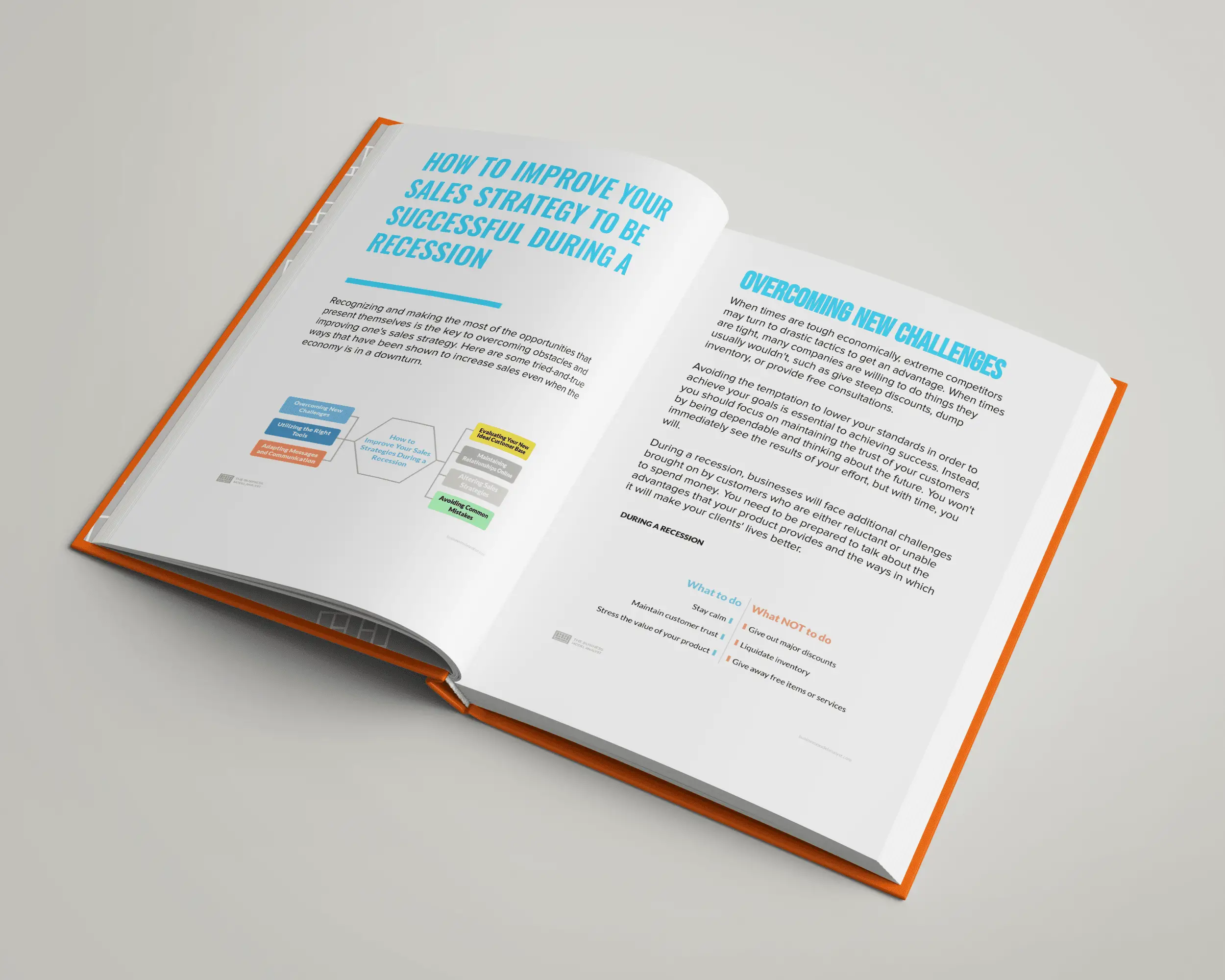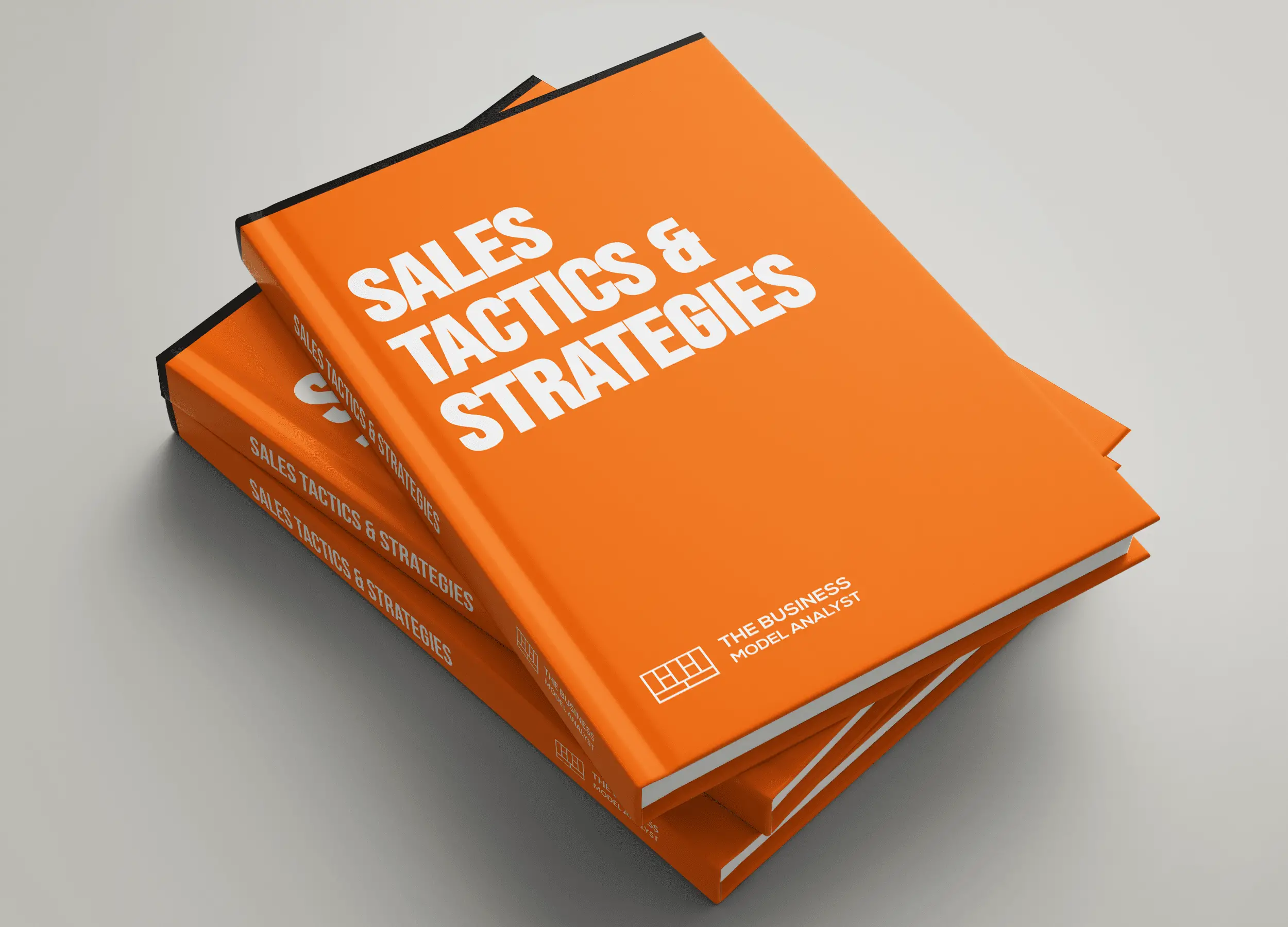 Product images are for illustrative purposes only