SUPER GUIDE: Open-Source Business Models
The Super Guide about Open-Source Business Models is a complete guide on help you to understand the core principles of open-source and how to apply them in real-life situations.
Table of content
Introduction
What Is Open-Source?
Why Does Open-Source Matter Today?
Open-Source Origin Story
Commercial Use Of Open-Source
Is Open-Source A Development Model Or A Business Model?
Open-Core Vs. Hybrid Business Models
Product Or Project?
Open-Source Vs. Freemium: Open-Source Business Model
Commercial Open-Source Vs. Community Open-Source
Open-Source Software Vs. Free Source Software
Classification Of Open-Source Business Models

Community Open-Source Business Model
Commercial Open-Source Business Models Overview

Mozilla Open-Source Model
Slack Freemium Model
The 5 Open-Source Business Models

Support
Hosting
Restrictive Licensing
Open-Core
Hybrid Licensing

How Open-Source Software Took Over The World

From Open-Source To Open Core To Saas
The Role Of The Community
Rise Of The Developer
Virtues Of The Open-Source Business Model
Open-Source To Freemium
The Future

The Most Popular Types Of Open-Source Solutions

Open-Source Crm

Hubspot Crm
Flowlu
Freshworks
Civicrm
Vtiger Crm Open-Source

Open-Source Project Management

Trello
Monday
Zoho

Open-Source Video Games

Xonotic
Openttd
Battle For Wesnoth

Blockchain Open-Source

Ripple
Hyperledger
Ethereum

Open-Source Office Software

Abiword
Openoffice.Org
Libreoffice

Open-Source Accounting Software

Gnu Cash
Sql Ledger
Front Accounting
Odoo

Open-Source Operating Systems

Linux Kernel
Linux Lite
Linux Mint
Fedora
React Os
Solus
Chrome Os
Ubuntu
Xubuntu
Openbsd
Freebsd
Netbsd
Dragonfly Bsd
Qubes Os
Haiku
Redox
Aros
Freedos
Basic-Dos
Skiftos
Tock
Essence
Subgraph Os
Osv.Io
Barrelfish
Toaruos
Mezzano
House
Minoca Os
Kerla
Sos
Powernex
Interim Os
Kolibrios
Minix
Risc Os
Helenos
Geckos/A65 V2.0
Serenity
Gnu Hurd
Plan 9
Harvey
Illumos
Aquilaos
Sculpt
Biscuit
Xv6
Open Vs. Closed Source Operating System
Advantages And Disadvantages Of Open-Source Operating System
Disadvantages Of Open-Source Od Include:

Open-Source Mobile Operating Software

Android
Plasma Mobile
Postmarketos
Pureos/Librem
Ubuntu Touch By Ubports
Tizen
Mobian Os
Lineageos
/E/
Grapheneos
Calyxos

Web Servers

Apache Http Server
Nginx
Node.Js
Apache Tomcat
Lighttpd

Database Systems

Mysql
Postgresql
Mariadb
Apache Hive
Sqlite

Mobile Development Frameworks

Ionic
React Native
Flutter
Xamarin

Qa Automation Tools

Selenium
Watir
Robot Framework

Big Data Analytics Tools

Apache Hadoop
Apache Samoa
Hpcc

Open-Source Website Builders

Droopler
Drupal
Joomla
Microweber.Org
WordPress

Free And Open-Source Cybersecurity Tools

Kali Linux
Keepass
Metasploit Framework
Nikto
Nmap
Openvas
Ossec
Security Onion
Veracrypt
Wireshark

Open-Source Audiovisual Production Tools

Graphics

Inkscape
Gimp
Krita
Scribus
Rawtherapee
Libreoffice Draw

Audio

Ardour
Audacity
Lmms
Mixxx

Video

Vlc
Openshot
Shotcut
Blender Velvets
Natron
Obs

2d And 3d Animation

Blender
Synfig Studio
Tupitube

Open-Source Development Tools

Vs Code
Budibase
Vercel
Oh My Zsh
Gitlab
Supabase
Posthog
Snyk
Prisma
Storybook

How Open-Source Software Companies Make Money

Donations
Hosted Version Of The Product
Paid Support Or Courses
Open Core
Dual Licensing
Software As A Service
Paid Feature Requests
Github Sponsors
Get Paid To Build Open-Source Extensions For Existing Products
Selling Other Products

What Every Open-Source Company Needs Before It Can Consider Making Money
When To Use Open-Source For Your Pricing Model
Why You Need An Open-Source Software Strategy
How Do I Build A Business Around My Open-Source Project?

Creating A Product
The New, Open Platform Model
Improving Product Creation & Management

The Open-Source Software Supply Chain
Role Of The Software Supplier
Achieving Maximum Efficiency

Becoming A Supply Chain Influencer

Evaluating Supply Chains
Complementing Open-Source With Commercial
Software

Connecting The User And Customer Journeys

Fundamental Open-Source Business Models

Open-Core
Professional Services (Proserv)
Hosting
Marketplaces

How To Pick The Right Model?
A Look At The Open-Source Market

Mongodb
Databricks
Elastic
Confluent
Realmdb
Sqlite
Couchbase Lite
Redis
Red Hat
Mysql
Hyper
Parstream
Cockroach Db
Berkeley Db
Github
Gitlab
Mariadb

Can You Make A Business Of Open-Source Hardware?
Ways To Make A Living With Open-Source Hardware

Sell Your Own Products
Sell Products Made By Others
Sell Products Made With Others
Sell A Service
Sell Your Expertise
Sell Workshops
Ask For Donations
Become Part Of Another Company

The Challenge Of Open-Source Business Models
Criticism
Conclusion
Read an excerpt from this Open-Source Business Models Super Guide:
"The open-source business model, as used by many tech-driven organizations, is currently not well understood. Although open-source is built free with its source code available for everyone to use and tinker with, it still generates revenue amounting to millions, even billions of dollars. Hence, its successes still remain a mystery to many. This model has been used to build multi-billion-dollar companies, like Confluent ($4.5B), HashiCorp ($5.3B), Databricks ($6.2B), Elastic ($9.3B), and MongoDB ($13.6B).
How did these companies utilize the open-source business model to grow from free projects to multi-billion-dollar companies? This super guide on open-source business models will help you to understand the core principles of open-source and how to apply them in real-life situations. It will guide you through the process of implementing the model, take away any guesswork, and help you to focus on the creation, delivery, and capture of values."
This is must-have knowledge for entrepreneurs and business model analysts, and consultants if you want to dominate business models, this super guide was made especially for you.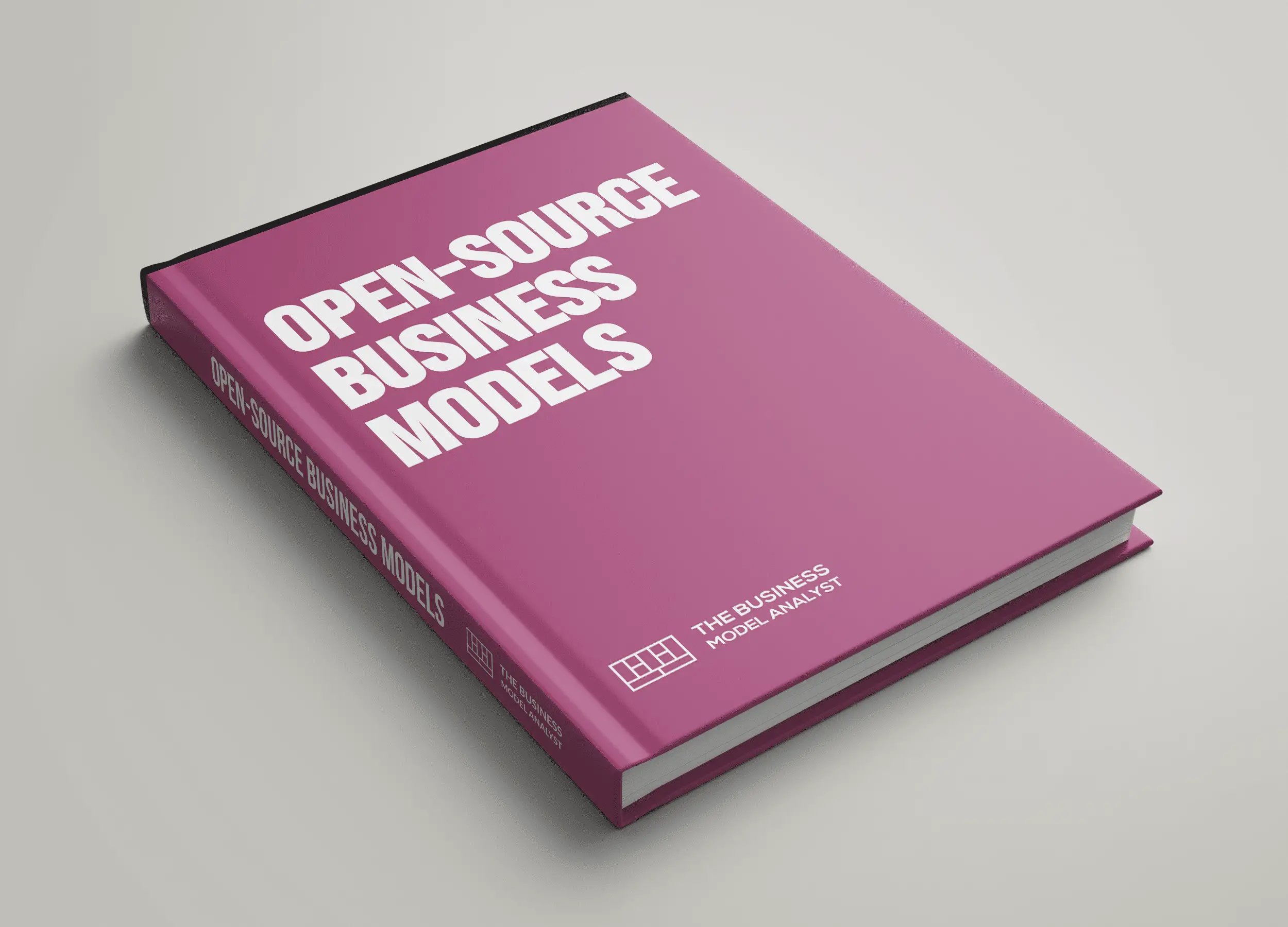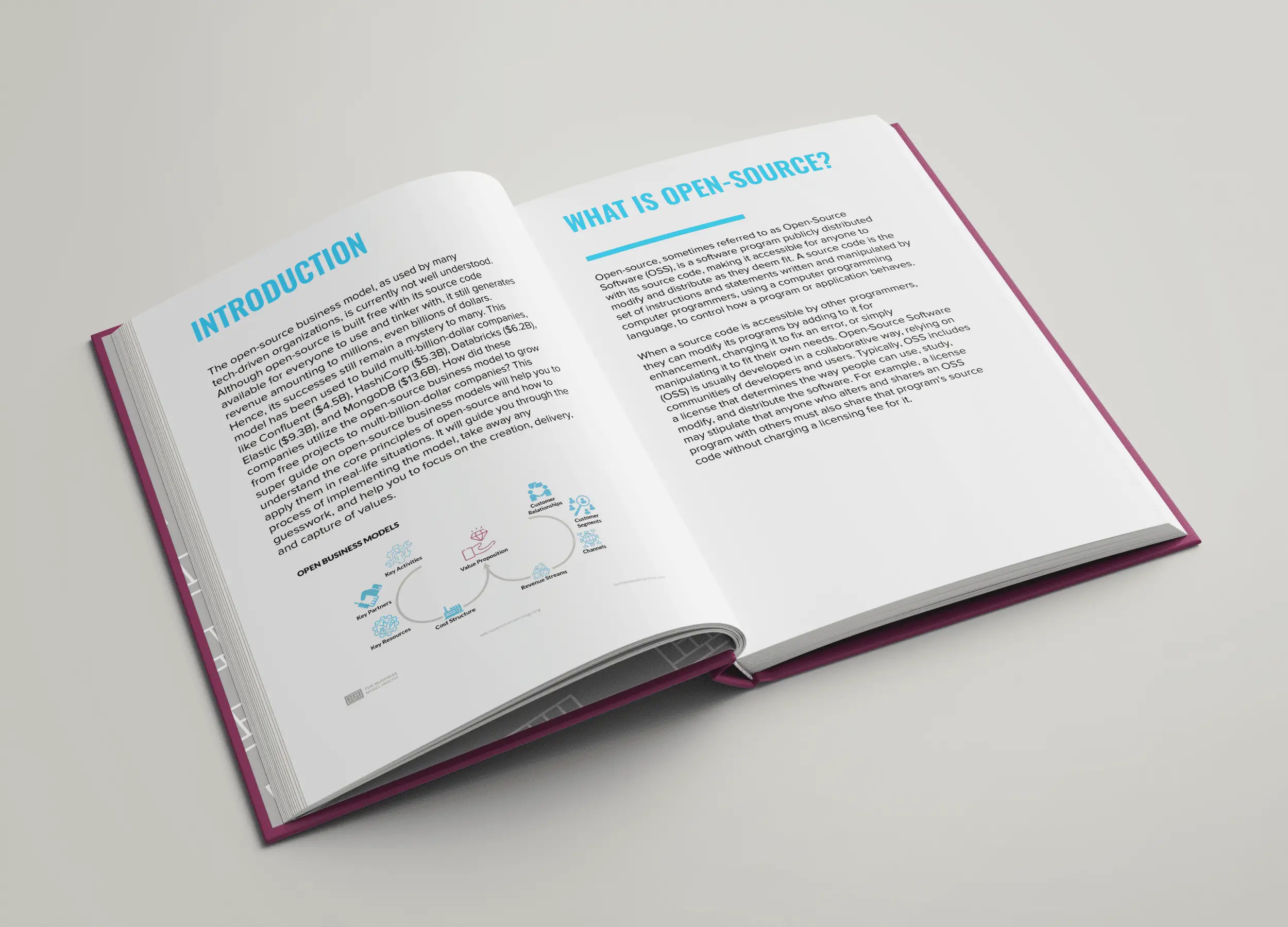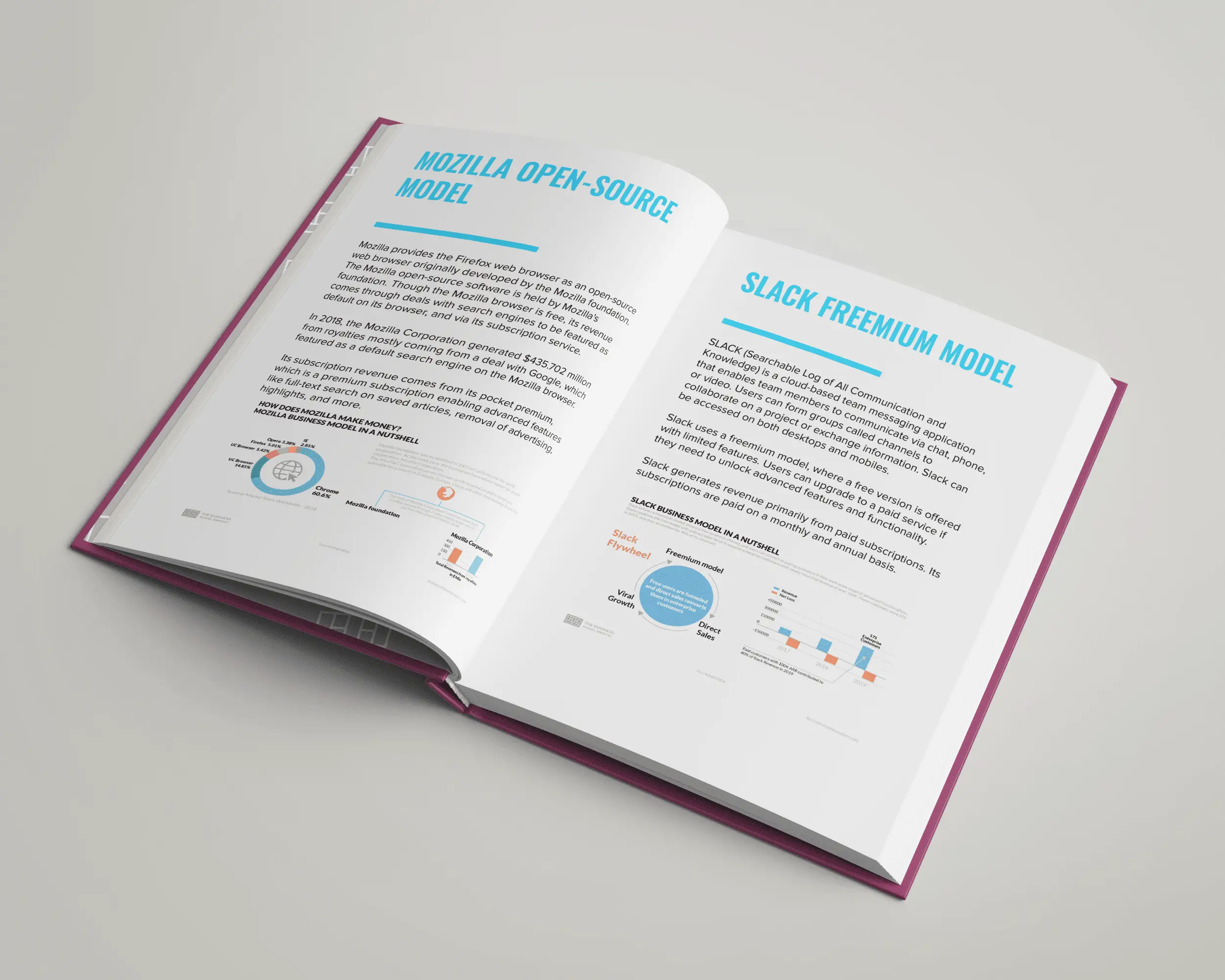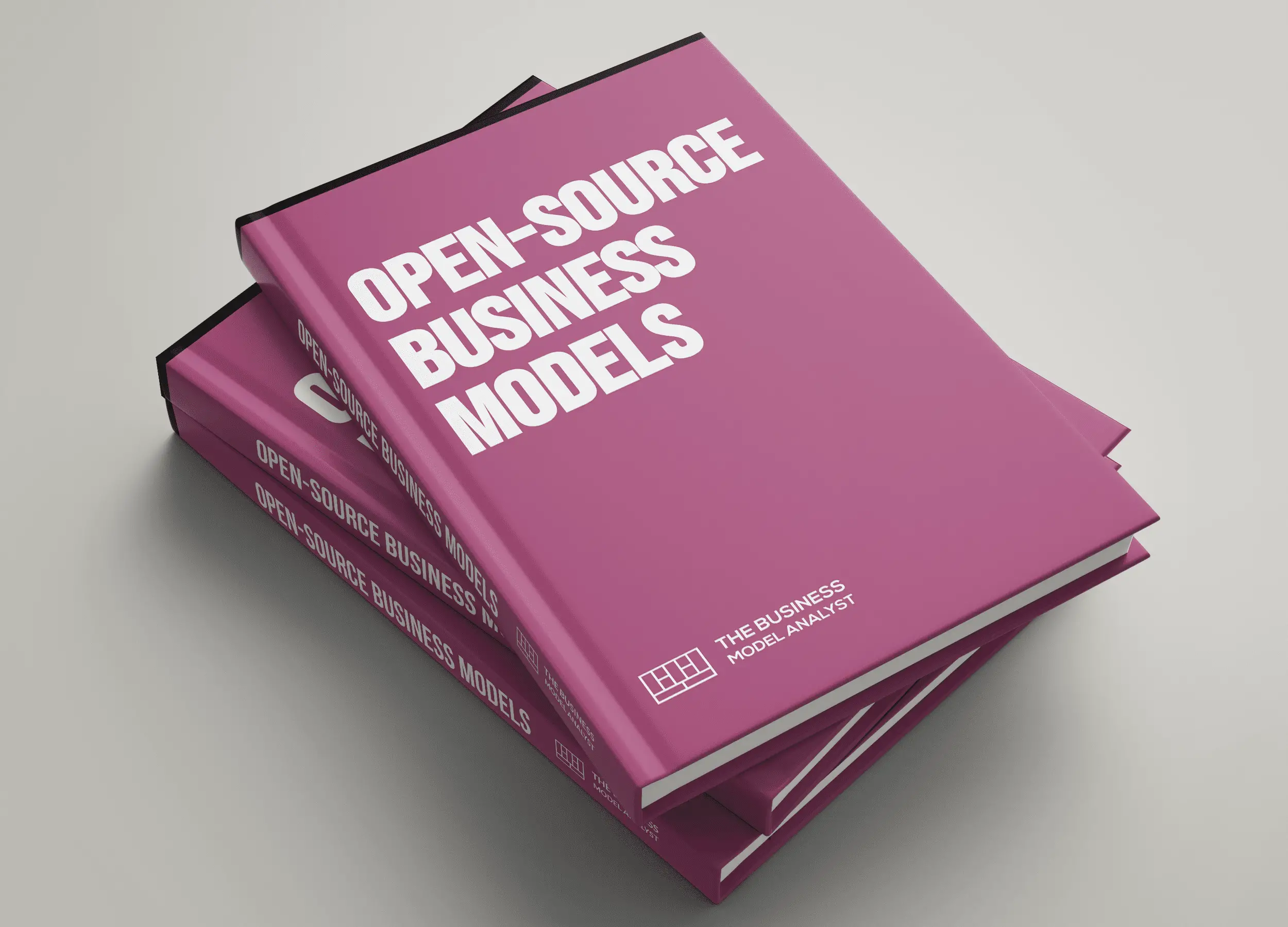 Product images are for illustrative purposes only